Are you considering a Swim Spa purchase?
If so you are in the right place! The spa king has been delivering factory direct swim spas throughout the country for more than a decade. We have helped countless customers transform their lives and backyards with a quality USA made swim spa. Our unique pricing structure cuts out traditonal middleman mark up and allows us to provide industry leading swim spas for a real damn deal!
What's a Swim Spa all about?
A swim spa is half pool (minus the headache of heavy maintenance and expenses) and half hot tub. You can get one installed in as little as one day and at a fraction of what a tradition pool would cost. You can swim, exercise, lounge out and jam out (bluetooth optional) ALL YEAR LONG.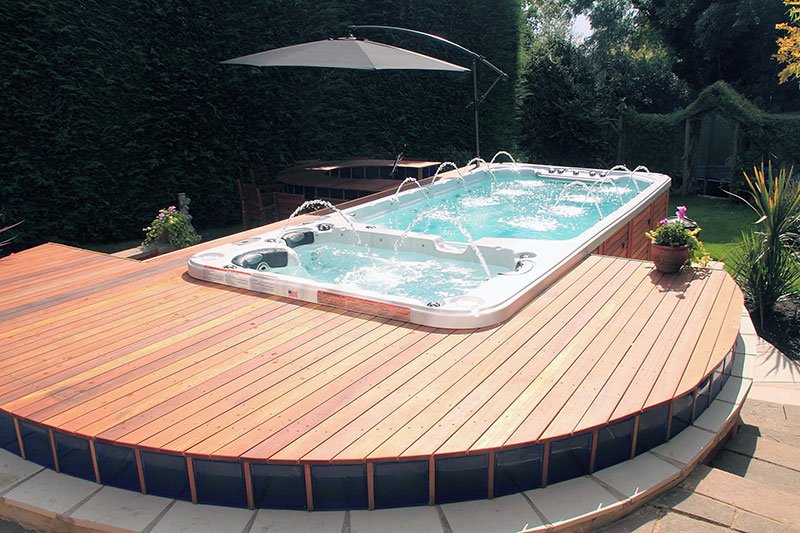 What makes a Swim Spa great?
Two extremely important things:
A swim spa fits your needs and lifestyle.
Not everyone needs to shell out big bucks for a spa made for Olympic athletes. Some models are made specifically for training while others are designed for hydro therapy and relaxation. Contact us and we will explain the differences!
It is a reputable company backing your purchase.
You can buy the worlds most expensive spa but if the company you bought from isn't reliable you will be unsatisfied. We like to work with all of our customers one on one to find the best model at the best price for their application. Whether you are looking to float with the Fam all year long or get into shape and maintain a healthy lifestyle our selection has something for everyone.
What kind of deal can I get?
We have several different options to save big when purchasing your swim spa:
Let us build you a custom swim spa at our factory direct pricing.
You can pick the color, size and features for your dream swim spa!
Choose from our available overstock inventory at steep discounts.
These are typically units that were excess inventory from a sale event or it may have been a unit that wasn't built to exact specs and had to be re-made.
Buy a "scratch n dent" for our biggest savings.
These are spas that may have incurred minor cosmetic damage but are perfectly working units with full warranties. We send detailed pictures of any "dings" before you buy.
What kind of Swim Spas and features are available?
Dual temperature spas:
These are large swim spas that have separate but attached hot tubs. This is a great option for those who want to swim in ambient temperature water but would rather soak and relax in hot water. The two bodies of water are separated by a divider within the swim spa and both have independant controls.
Semi in-ground spas:
Thats right, we now have the capability to recess a swim spa partially into the ground for a lower profile look. The portion of the swim spa that would be inground has a special exterior protective wrap and the electronics are elevated. We only offer this on select models but the end result is impressive.
Bromine and choline free spas:
We have a great selection of alternative ways to safely sanitize your spa water. Bromine and choline both get the job done but often times they can leave a powerful odor in the spa and dry out your skin. Ask us about our great alternatives that won't break the bank!
Chillers:
With a-factory installed chiller, you can get temperatures down into the 60s for a therapeutic cold plunge. This is also a great option for our customers in the southwest region that have extremely high and dry temps.